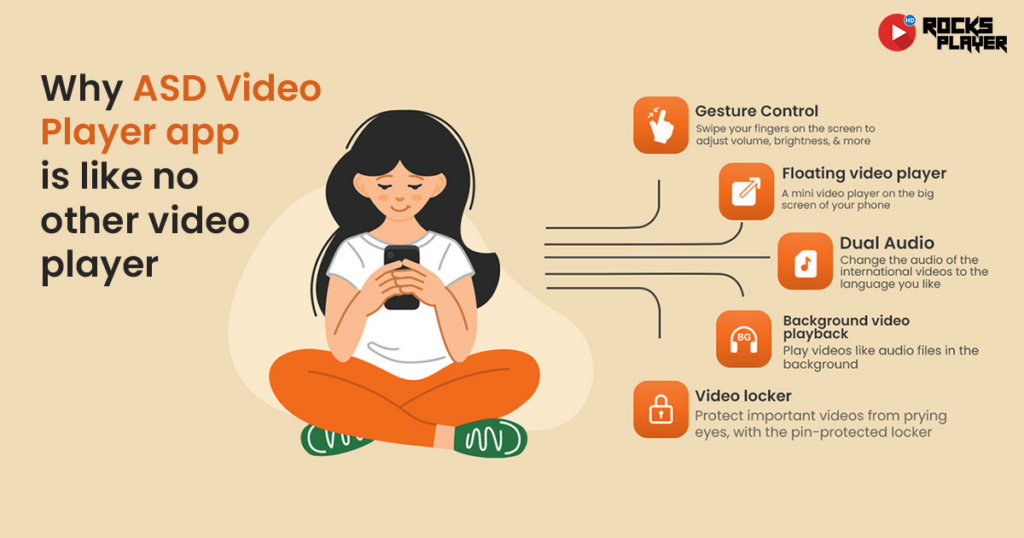 Discover a video player app that supports all popular video formats in high definition. Free online and offline subtitles, dual audio, gesture control, background video playback, floating video player functionality, and playback speed control are among the app's top features.
If you aren't aware of some of these features, don't worry we'll explain them all later in this article.
The list of features keeps adding on! You can even watch trending online videos, download social media videos, protect important media files with a pin-protected video locker, manage photos, music, and other files with the ASD Rocks Video Player app, and enjoy online games for absolutely free.
Moreover, you can use the app in more than 30 languages, and enable the dark mode to soothe your eyes. The app also comes with a plethora of themes so you can customize the app according to your preference.`
Woah!! Surely this app has far exceeded our device's default and other external video player apps in terms of features but does the app also defies others in terms of its performance? Let's find out below.
ASD Rocks Video Player app is quickly becoming the most widely used Video Player App because of its stunning features and outstanding performance.
You can tell a video player app provides top-notch performance if it checks all the below-mentioned criteria and we assure you that ASD Video Player App does check all these criteria.
1. Super Smooth Scrolling
The smart engineering of the ASD Rocks Video Player app makes it super responsive and intuitive to your touch instructions. You can experience super smooth scrolling with this app, and with absolutely no glitches. The user-friendly interface of the app allows butter-smooth app navigation that enables you to perform any function within fraction of seconds.
2. Bug-free experience
The dedicated team of expert developers always ensure to give you bug free app experience. Since the app offers so many premium features, it becomes increasingly essential for the app to be able to deliver all features and functions effortlessly. However, defying all the odds, ASD Rocks Video Player app does execute all of its features with negligible bugs.
3. Latency Rate
The lower latency rate is considered good in video player apps which results in an excellent user experience. In simple terms, latency rate is the time difference between the action you want to take in the app and when the app responds to that instruction.
So suppose, you started playing a video and you want to enable subtitles for your video, you can do that in split seconds with this app.
4. App Crash
App crashes are the most common issues that are faced in apps due to the diverse range of phone models and their built, some devices may experience app crashes while others don't. Nevertheless, whatever be the reason for app crashes, ASD Rocks Video Player app ensures to diligently work on these issues before they occur on your device.
A Perfect Balance Of Functionality, Performance, and Quick User Interactions
No doubt, the ASD Rocks Video Player does know how to maintain a perfect balance of functionality, performance, and quick user interactions. It is emerging as one of the best video player for Android and it wouldn't be wrong to say that it will soon become the first choice for every Android user.
Coming back to its phenomenal features here you can find a descriptive explanation of what you just read above. The feature-rich ASD Rocks Video Player app comes with below mentioned features.
1. Offline & Online Subtitle/ Caption Support
Enable offline subtitles for your movies from the player menu, and if you don't have offline subtitles, don't worry because you can easily search for subtitles online and download them in your preferred language. The ASD Rocks Video Player app also gives you an option to customize the look of your subtitles, so you can alter the size, colour and font of the subtitles as you like them.
2. Dual Audio
Listening to dialogs of movies in your desired language adds more fun and helps to connect with the videos better. Keeping this in mind the feature of dual audio allows you to switch the audio of the videos to your native language.
3. Gesture Control
Elevating your video watching experience further, the touch gesture control feature of this video player app allows you to fluidly control sound and brightness of the app. You can even zoom into the video with a pinch-to-zoom gesture. Even if you want to forward or rewind your video, you can effortlessly do that.
4. Background Video Playback
We all may have some videos we want to listen to rather than watching them, the background video playback lets you do exactly that. You can play your video normally and enable this option from the player menu, immediately your video will disappear and be played as an MP3 file on your device. You can easily disable the background video playback from the app.
5. Floating Video Player
Watching web series online while having to reply to a message can be cumbersome as you need to switch between the apps real fast but with the floating video player app you can take multi-tasking to a whole new level. A small video player pinned on the full screen of your device allows you to watch videos in the mini player while you can browse and use your phone normally.
6. Playback Speed Control
Having to watch an informative video quickly or to finish watching the whole series in a night calls for fast playback speed of your videos, which is why you can also control and adjust the playback speed of your videos with this app. So, you can enjoy your videos at slow or fast or normal speed.
7. Online Trending Videos
No videos to watch on your device? Not a problem with the ASD Rocks Video Player app. The app comes with a dedicated section of online videos derived from YouTube. So watch online movies, web series, music videos, podcasts, recipes, news and so much more here. You can even select your preferred region and set your preferred language to watch the videos in.
8. Video Downloader
Download unlimited videos and reels from all social media platforms, simply copy the link of the video and paste in the browser of the app. You can also log into your social media account and download videos directly while scrolling through your feed. The app also allows you to browse anything on the internet and helps you manage all the downloads in one place.
9. Video Locker
If you also get restless while seeing your device in someone else's hand then this option is for you. A pin-protected folder in the app is there for you to hide all your sensitive and important videos. Protect your media files from the sneaky individuals who are always excited to explore your device's data. You can also use this function to protect videos from getting deleted from your device by mistake.
10. Photo Gallery, MP3 Player
With the ASD Rocks Video Player app you can also manage other media files like photos and music. The in-built functionality of the app lets you even play your MP3 files from the app and watch your photos and basic editing features. So, you can get all your entertainment needs met in just one app!
11. Free Online Games
Videos and music files are not enough to uplift your moods? Try the online games in the app. With these fun and engaging games you can relax and even exercise your mind anytime and anywhere, giving you all the more reasons to try this app!
Let's Wrap Up!
The way we consume entertainment content is continuously improving and that's why the platforms through which we access this content should also be top-notch. The ASD Rocks Video Player app is one of its kind. It is developed with the most advanced technologies used to develop high-quality mobile applications that are completely safe to use as well interactive.
The exclusive features like dual audio, subtitle support, video downloader, video locker and more makes this app a feature-rich video player app and its clean user interface, low latency and low crash rates proves it to be one of the best performing video player apps. So now you can not only watch videos and movies but experience them lavishly.
The ASD Rocks Video Player app goes way beyond just playing videos on your Android device, it's a whole package of entertainment on its own. Moreover, the app is completely safe to use and doesn't harm your data or privacy in any way. Recognized by Google, this is truly everything you could have only imagined in a video player app!