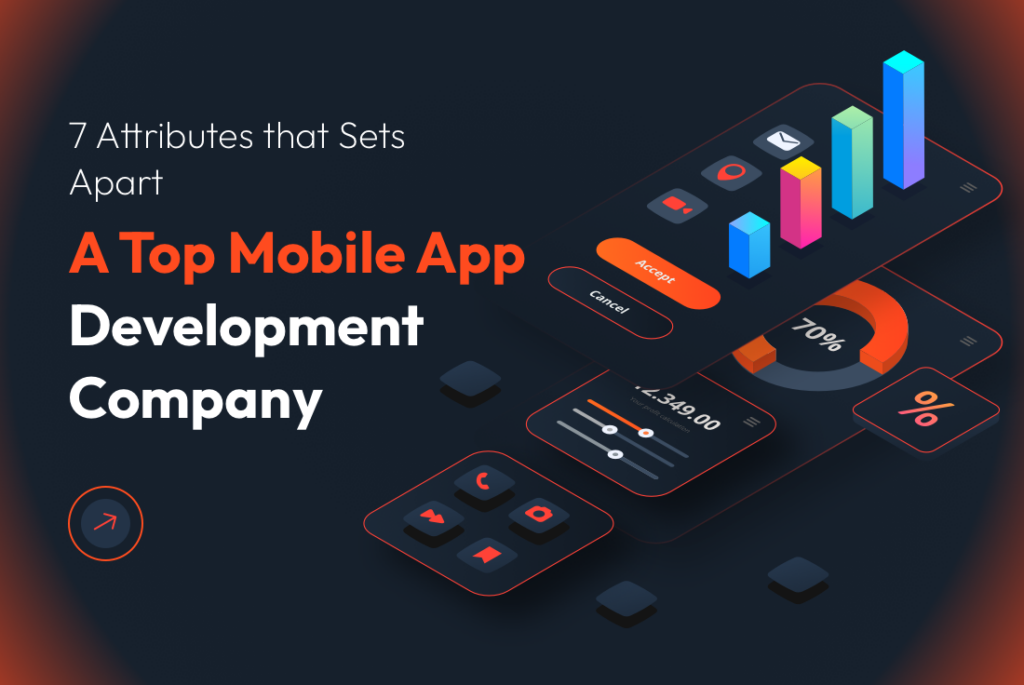 Today's era is evolving rapidly with the advancement of the digital landscape. More and more people are coming online and exploring the world of the internet, which has opened a lot of new opportunities for business.
They get the chance to connect with their audience to educate them about their offerings and then turn their potential leads into customers.
While there are different ways through which businesses can reach their buyers but, among them, one of the most effective mediums is a mobile app.
Mobile apps are one of the most worthy investments that businesses spend their money on and receive substantial returns!
According to Statista's Market Insights, mobile e-commerce sales reached $2.2 trillion in 2023 and now make up 60 percent of all e-commerce sales around the world. 
Wasn't that a convincing statistic about leveraging the use of mobile apps in business to generate revenue?
Till now, you might be convinced how effective mobile apps are for being successful in today's cutthroat competition in the online world.
But if you thought just having mobile apps would get your work done, then here you might get wrong!
There are many factors that you need to consider while developing a mobile application, and one such factor that determines the success of your app is choosing a mobile app development company.
A Mobile app development company is one of the main components that will decide the future of your app and their success.
With so many mobile app developments present online, it becomes difficult to choose one to fulfill our app development needs.
If you're one who is facing the same dilemma, keep reading, as we will explore various attributes that help you decide your ideal mobile app development company.
Top Attributes of Mobile App Development Company
Clear and Well-Defined Process
To achieve triumph in the Mobile app development endeavor, following a clear and well-defined process is crucial for the success of an app.
It's like having a systematically curated roadmap that ensures smooth navigation through our journey of creating a phenomenal mobile app.
By creating a well-defined systematic app creation process, the development team can guarantee that each crucial aspect that makes an app exceptional isn't overlooked while ensuring its timely delivery.
While time is a crucial element, the app's quality and functionality are the top priority.
Hence, from the initial stage of plan execution to the last stage, where the app is ready for launching, everything should be precisely defined in the action plan.
Moreover, the mobile app development company should ensure that everyone, from the project manager to the developer working on the project, has clarity about the plan and is working in harmony for the app's success.
Exceptional Coding Skills
One of the major reasons why entrepreneurs rely on mobile app development companies is their coding expertise.
Since a lot of us don't possess the technical knowledge to write code for app development, we will require technical support for curating apps that match our ideas.
Hence, the company you hire should be equipped with people who are coding experts and have the ability to think out of the box.
These developers are well-versed with the best practices required to build a remarkable app.
Moreover, they keep an eye on what's happening in the industry to stay updated and outperform others in the industry.
All this technical coding expertise of developers will result in the delivery of a top-notch that gives you a competitive edge.
Cross-Platform App Development Expertise
Cross-platform app development is an approach that lets you develop applications that run seamlessly on multiple operating systems. 
For example, when you create applications using a cross-platform development approach, that single application will work smoothly on both Android and iOS.
Now, why is cross-platform app development important? We're well aware individuals have different tastes and preferences, and the same is the case with using mobile devices.
The latest stats suggest that 69.8% are Android phone users, while 29.67% are iOS users. 
So, in order to ensure that your application works on both Android and iOS without any hiccups, cross-platform is the right choice.
While the approach guarantees that there will be no compatibility issues, it also gives you cost advantages since the fact that you don't have to develop a dedicated application for each platform separately.
Strong Portfolio of Successful Apps
A portfolio usually provides you with a glimpse of work that a mobile app developer has done in the past.
It reflects on their successful track record of app projects they have delivered so far.
Moreover, it showcases their expertise in the project they have worked on, which certainly gives us an idea about their capabilities.
If that doesn't convince you, what can be done here is go to the app store, download the app, and take the first-hand experience on your own.
Hence, by checking their portfolio and getting real hands-on experience with their developed apps, you get a deeper understanding of their quality of work and know what to expect when you're working on the project.
Cutting-edge technologies and Tools
In the earlier points, we discussed how cutting-edge coding skills are of paramount importance.
Although coding isn't only the technical aspect that will get your app created, there are many other tools and technologies involved in making your app stand out.
This includes programming languages, frameworks, design techniques, cloud computing, analytical tools, security measures, etc.
While for non-tech people, this may look complex and overwhelming, your partnered mobile app development company will take care of technical intricacies. They will help you to choose the best solutions that guarantee your app meets the best standards.
Timely Delivery and Communication
Having the app delivered on time is as important as making sure it meets expected quality standards.
Top mobile app development companies are known to excel due to this crucial aspect.
Their timely app deliverables are what make them a reliable app development company for your next project.
These companies will stick to the dedicated project timeline and provide regular updates on the project's completion.
Another crucial aspect that complements the project delivery on time is constant communication, which ensures you and your partnered mobile app development are staying on the same page.
This way, you can ensure you receive delivery on the scheduled time without compromising on quality.
Competitive Pricing and Value
Pricing is one of the most important factors that your app development is dependent on.
Everyone has their own dedicated budget for app development, so it's crucial for you to look out for the company that settles on your price point.
Along with the price of the app development, it's also the value you receive in the decided budget.
Hence, you'll have to clearly communicate with the mobile app development company and understand the services and support you're being offered at decided prices.
Moreover, many companies offer support even after completion of your project, through which you can ensure that your app performs optimally and so inquire the same with them.
One of the best ways to get reliable support at a better price is to look out for a web and mobile app development company in India, where you will have reliable support from technical experts at competitive prices!
So here we talked about the top crucial attributes to look for while deciding on a top mobile app development company!
Which of the above attributes do you consider to be the most important one?
Comment down your thoughts below, as we would love to hear from you!