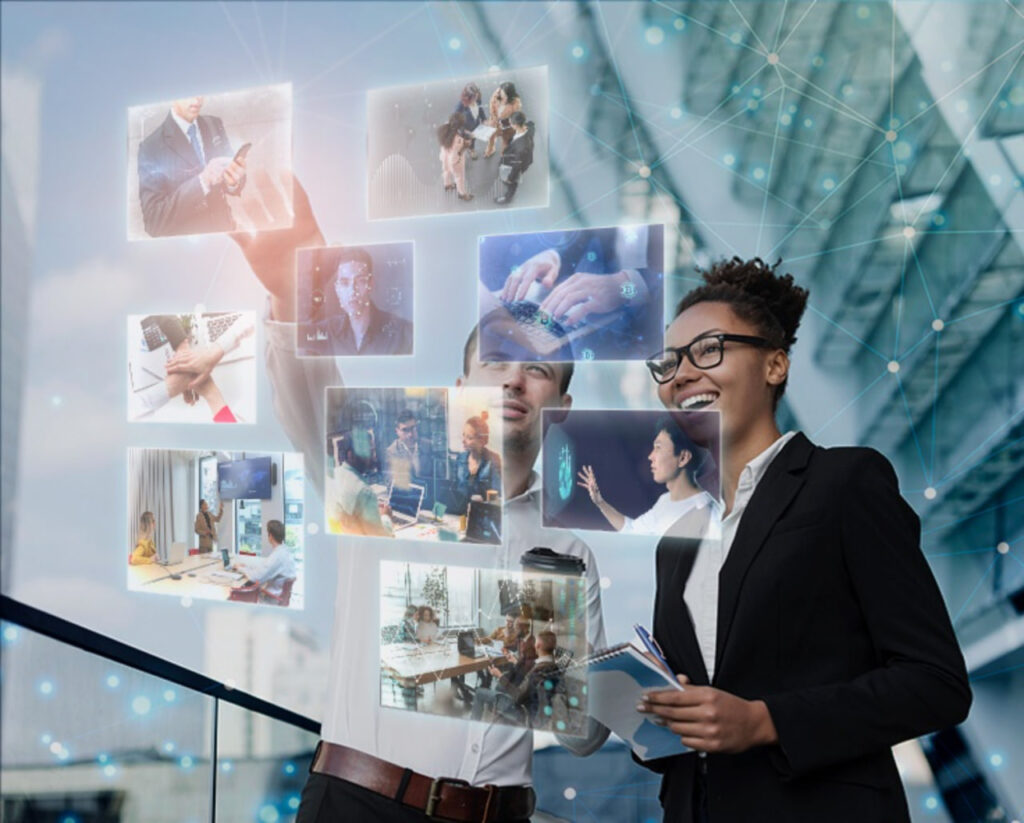 Imagine a universe where people can socialize, attend meetings, and learn without leaving the convenience of their homes. Though it sounds too good to be true, it is a soon-to-be-possible thing and some sectors are already doing it.
You just got a glimpse into the digital multiverse, which is soon going to be another bleeding-edge technology and transform businesses across the world.
If you go by the movies, the multiverse represents the cross-over of different universes.
In the digital world, the multiverse defines the overlapping of virtual world and the physical boundaries. We now have video calls and we chat face to face over the phone. But with the power of the multiverse, we could have a live projection of the other person's surroundings as well.
You will feel like you're right there with them, except that you won't be touching or feeling them. The key technologies behind the multiverse are augmented reality (AR) and virtual reality (VR). Though this concept holds a promising future for corporate leaders, but most organizations are yet to realize its full potential.
But in case you're looking for answers to questions like what exactly is this multiverse and how it is transforming businesses (bold enough to venture into it right away), then you're at the right place or rather post. So without further ado, let's delve right into the multiverse discussion.
What is Multiverse?
Every tech giant has its definition of the metaverse but combining the common factors, the metaverse can be defined as the futuristic, more immersive, and interactive version of the web world that will allow people to do things with a more enriching experience.
Be it entertainment, fashion, retail, or making business deals, the multiverse is soon going to invade the digital world in its full glory and with proper growth, it can find wide usage and reap rich benefits for businesses.
Although in its nascent stage, it is already enjoying the support of tech giants like Microsoft, Meta, and Google. Labeled as the 'next big thing' in the technology world, these giants have invested a lot to notch it up.
Ways in which the Metaverse Could Transform Businesses
– Healthcare
The multiverse holds immense potential for the healthcare industry. Firstly, it could leverage its services to enhance patient care. Together with technologies like Blockchain, the multiverse can lead to the development of cutting-edge healthcare solutions.
Virtual consultations can become more pragmatic. Remote patient monitoring would become better and medical training simulations would be a lot more comprehensible. The metaverse can further become a part of several wellness programs as well.
Instead of watching video tutorials, users can directly participate in classes like yoga and meditation sessions, indoor exercises, and diet lessons. In short, the multiverse can enhance the overall physical and mental well-being of users.
– Real Estate
The real estate industry is one industry that took advantage of 3D technologies for offering virtual walkthroughs to their patients. Now with the multiverse in the scene, this industry is all set to revolutionize its services by offering its clients lifelike simulations.
The new form of virtual walkthroughs won't be on the computer screen but rather on the actual site. With collaborative environments, clients can get a direct look at their properties, which will help in better decision-making for them.
– Education
The education industry is another sector that is bracing itself for some significant transformation. With the metaverse integration on the scene, educational institutions are busy prepping their infrastructure so that they can help students make the most out of this technology.
Now let's talk about the probabilities. Science experiments, active participation on field trips, and learning with active simulations – students can do so much more and learn so much more with the multiverse integrated eLearning solutions.
The multiverse will prove highly useful for specially-abled children who can learn things conveniently. Educational professionals too can benefit from this integration and use it to attend training programs offered by prestigious universities and even record their live sessions.
– Digital Marketing
For digital marketers and marketing agencies, the metaverse opens windows of opportunities for designing state-of-art marketing campaigns. Skilled personnel can use virtual environments to create interactive advertisements that allow the targeted audience to become a part of the campaign regardless of their geographical location.
This will help businesses have a positive influence on their users by painting a positive brand image and encouraging active engagement via simulated environments.
The metaverse together with AI and ML can also provide businesses with useful insights so that they can customize ad campaigns and make better deals.
– Social Networking
In the list of the metaverse transforming businesses, social networking is going to be yet another significant one. Firstly, the social networking industry has thousands of users and with the multiverse integration, the number is only going to increase along with its usage.
It will also call for more engaging and dynamic interactions with users. Imagine the travel bloggers going around places and taking you along with them on active simulations. That's going to be epic for sure.
Further, this technology will also facilitate official collaborations like virtual webinars, meetings, conferences, presentations, etc., thereby ushering in a new era of workspace and work culture.
The Challenges
However, no matter how lucrative the opportunities sound and look, we cannot deny that the multiverse will have its challenges, the toughest one being data security concerns.
Proper infrastructure is also going to be a big challenge along with the incurring costs of implementing the same. Companies venturing into it will need to take appropriate measures to address the ethical issues and ensure proper use of the multiverse.
Summing Up
There's no doubt that the metaverse has the potential to revolutionize and transform businesses across multiple industries, nudging them in directions for the development of more collaborative solutions.
Right from education and healthcare to entertainment and the oil and gas sector, every sector will be eager to grab and make the most of the multiverse-powered opportunities. However, businesses do need to implement strict rules and regulations to ensure responsible and ethical use of this technology.
Author: Albert Smith. Albert Smith is Digital Marketing Manager at Hidden Brains, a leading software development company specializing in mobile & web apps. He provides innovative ways to help tech companies, startups and large enterprises build their brand.